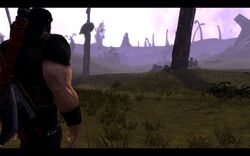 Bladehenge Field is the grassy area surrounding Bladehenge, located on the Western Continent of the Brütal Land.
Description
Edit
At the centre of the field lies Bladehenge, headquarters of the Ironheade resistance. Remnants of Titan ruins can be found in the outlying areas, including the Guitar Statue. Just outside of the settlement, two Fan Geysers can be found, which are utilised during "Battle for Bladehenge".
If one turns right after exiting Bladehenge's northern entrance, they will find the Horn Thrower, used to customise Mount Rockmore, and to the left the landscape is littered with giant blades.
Raptor Elk and Ground Urchins are very common in this area, and Tollusks can be found here as well.
Motor Forge -- To the northwest of Bladehenge's main entrance and past the statue.
Motor Forge -- Past Bladehenge's main entrance and to the right.
Landmark Viewer -- At the Spike, located on a hill just west of the statue.
Lightning Plug Jump -- Past the Guitar Statue and to the right, under the Titan Highway and on the grassy path leading to Battersmith.
Related Content
Edit
Community content is available under
CC-BY-SA
unless otherwise noted.