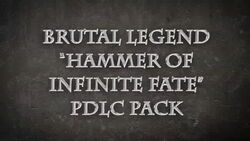 Hammer of Infinite Fate is the second add-on made available for Brütal Legend. It includes three new outfits for Eddie, four paint jobs and four upgrades for the Deuce, four multiplayer maps, six effigies for Mount Rockmore and nine new Achievements. It was released on December 15th, 2009 on Xbox LIVE Marketplace for 400 MS points and on the PlayStation Store for $4.99.
Threads
Threads are a set of three new outfits for Eddie. Each outfit has an associated achievement/trophy.
Each outfit can be further adorned with one of seven Back Patches - Crew, Double Fine logo, Ironheade logo, Kabbage Boy logo, Ace of Spades, Iron Cross, and Ormagöden.
The Deuce upgrades
Achievements/Trophies
Maps
Mount Rockmore Effigies
Update
Upon release of the second DLC, an update was released. Changes included changing Call of the Wild to summoning from the stage and imposing it and the Tick Choppers to the load limit. Avatar health was severely decreased, making them much more vulnerable in combat and prone to being defeated easily by certain double teams. However, Xbox LIVE matchmaking was still unable to give random teammates.
Gallery
Related Content
Community content is available under
CC-BY-SA
unless otherwise noted.