Hot damn, has it really been five years? It's crazy to imagine it's been that long since the gates of the Brütal Land were opened up to the general public and we all discovered the wonders that lay within. How about you relive those cherished memories and join those celebrating the 5th Annual Roctober 13th by playing online?
Rocktober 13th is the event that happens only once every year where warlords from all different lands, be they hailing from the Playstation 3, Xbox 360, or the newer clan of the PC, assemble across the servers all day to duke it out in Brütal Battle all in the name of celebrating the glory of metal, and the hidden gem that is Brütal Legend. (Unfortunately, Tim can't play since he's on the road to LA to do some voice work for one of Double Fine Productions' lastest creations Broken Age! Make sure you check that out!)
In other celebratory news, Double Fine have teamed up with IndieBox to release a Limited Edition of Brütal Legend for Windows, Mac, and Linux! What could be inside, I hear you ask? You have to subscribe to find out! Exciting!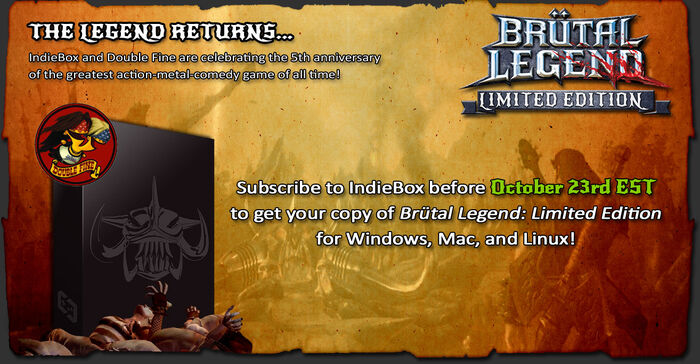 Happy birthday, Brütal Legend. Thanks for being an unforgettable gaming experience. \m/
- The Brutal Legend Wiki
(Always here. Eternally waiting for a sequel)
Community content is available under
CC-BY-SA
unless otherwise noted.