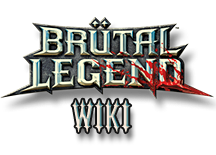 Hello, I am The Milkman. I have recently sent an
adoption request
to Community Central, and Wendy has informed me that the matter should be discussed here on the wiki due to the presence of other editors here. The users she mentioned were:
I will be contacting you via your talk pages as well. I would appreciate it if you could reply in the comments section below.
But back to business. I have a clean editing record, and have done plenty of working making Dante's Inferno Wiki a much better wiki. If you go there you can see I also created all of the Badges (Achievements) and policies on that wiki. I have past experience with wiki and admin tools, and can help this wiki grow. I am a huge fan of Brütal Legend, and I want to bring it back to life like a Thunderhog to a wounded Headbanger. I can use the admin tools to add new and exiting features to the site as well. In addition, I have quite a few friends on Wikia from Red Dead Wiki and Dante's Inferno Wiki who could help us out here. This wiki needs cleaning. What it needs is a roadie. Or an admin. That works just was well.
If you have any objections, questions, or interjections, simply speak your mind in the comments, so we can get this wiki on the road!
Community content is available under
CC-BY-SA
unless otherwise noted.